Thanks for joining us on this weeks Book Club Thursday. We are doing paranormal romance this month and this week was our Free Day.There is so much to choose from- shifters, ghosts, weres, etc. What to pick? I just finished this historical vampire tale that one of my BFFs and fellow blogger Cyndi recently gave me and I thought "PERFECT"! So here is my review of One Bite Per Night by Brooklyn Ann.


One Bite Per Night
Scandals With Bite Book #2
Published by Sourcebooks Casablanca
Released August, 2014



Blurb:
The Dowager Countess of Morley asks Vincent Tremayne, Lord Vampire of Cornwall, to become guardian of her American granddaughter. Vincent honors the agreement and plans to get his new ward married and off his hands as soon as possible.

When Lydia Price arrives, she soon turns Vincent's gloomy castle upside-down, and he decides he wants Lydia for himself. But if Vincent can't protect Lydia from her entanglement with scandalous portrait painter Sir Thomas Lawrence, the vampire community will make sure that he—and Lydia—face dire consequences.
Review Time:
I loved last years book and first in the series "Bite Me, Your Grace." It is on the list of my favorite books for 2013. This years follow up book " One Bite Per Night " does not disappoint.
After the death of her parents, Lydia Price is sent to England to live with her grandmother, a dowager countess. Unfortunately, her grandmother wants nothing to do with her as her father committed the great sin of marrying for love instead of title. She disinherited her son and he settled happily in New Orleans with his merchant's daughter bride. Lydia was born a year or two later knowing she was loved by both parents and she is encouraged to pursue her love of painting. She is shocked and hurt that her relatives want nothing to do with her and that she will be the ward of Vincent Tremayne who is honoring a favor from a past friendship with one of the Morleys. Little does anyone know that Vincent is the Lord Vampire of Cornwall.
Vincent doesn't know what to make of the feisty American girl who ends up in his home under his protection. He hires a chaperone to help Lydia find her way in society with a season among the wealthy Ton, the cream of society. Although falling for her, Vincent hopes to marry Lydia off so that she doesn't discover his dark secret. He enlists the help of The Lord Vampire of London and his wife from the previous book, Ian and Angelica.
There is no denying the spark between Vincent and Lydia, but their are rules even among vampire society and a future for them looks bleak. You really care for Vincent, he is living a lonely life and the free-spirited Lydia gives him a reason to feel alive again.
Besides the romance of the H/h their is also the good friendship that starts between the two women, Lydia and Angelica who are strong, brave, headstrong, (and for Lydia impulsive) women who at times question the hypocritical world of rich society. They are two peas in a pod, each with talent who wish for careers doing something they love in a man's world, painting for Lydia and writing for Angelica. Together they get into mischief and drive their true loves crazy.
This story is a great blend of humor and charm with a dash of danger. I highly recommend this story for historical fans who love their stories with a little bite.
Author Brooklyn Ann
In cased you missed it, here is the cover and blurb for Book #1:
Bite Me, Your Grace
. Yes, it had me at the title!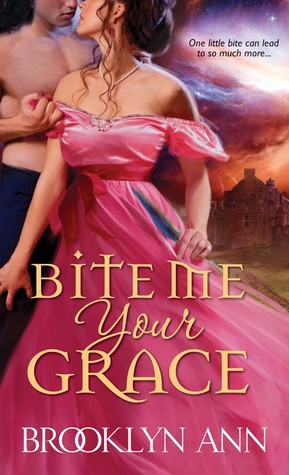 Released April 2013
BLURB:
England's "vampire craze" causes much vexation for the Lord Vampire of London, Ian Ashton. To save his reputation, Ian enlists aspiring authoress Angelica Winthrop without realizing she has hidden plans of her own.
Angelica Winthrop's life goal is to ruin her reputation, avoid marriage, and become a Gothic authoress like her idol, Mary Shelley. To find inspiration for her new story, she breaks into the home of Ian Ashton, Duke of Burnrath, not knowing she will be coming up against the Lord Vampire of London. Romance sparks and reputations are at stake. But who knows the real difference between fact and fiction?
I hope you enjoyed this weeks Book Club Thursday. I can't wait to see what my friends picked for their Free Day topic. Don't forget to stop by on October 16th. We will be having another E-book Giveaway. I hope to hear from you. And stop by my friend's blogs, too.
Romancing the Readers-Ann
Born to Read Books-Cyndi