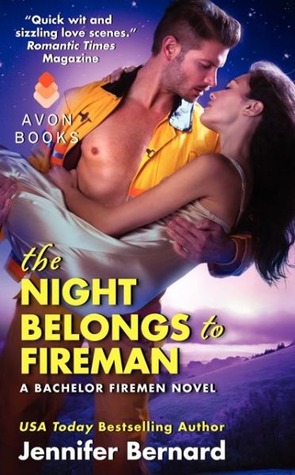 The Night Belongs to Firemen
The Bachelor Firemen of San Gabriel # 6
Jennifer Bernard
Releasing September 30th, 2014
Daring . . . Sexy . . . Irresistible . . .
They're the Bachelor Firemen of San Gabriel

When fireman Fred Breen rescues a bachelorette party after a construction crane collapses onto their limo, the media labels him the "Bachelor Hero." But all Fred can think about is the petite brunette with the sexy mane of dark curls who bolted away from him faster than a wildfire after he carried her to safety. And when he discovers she's none other than Rachel Kessler, the daughter of a tech billionaire, the girl whose kidnapping riveted the nation, he intends to learn every intimate detail about this intriguing woman who sets his pulse on fire.

Rachel can't deny the lean-muscled firefighter is smokin' hot. But after having one too many drinks at the bar where she first meets him, Rachel knows she's made a fool of herself. Yet when he rescues her from the limo, she feels safe for the first time since she was held for ransom as a child. Then her overprotective father insists Fred be her bodyguard—and his close presence kindles a burning desire that only he can extinguish.
My Review:
Yes, this is one of my favorites in the series so far. I truly fell deeply in love with Fred aka "Stud", one of the Bachelor Firemen. This man is not perfect, but he has a heart of gold. One night he meets Rachel at a bar where she is part of a bachelorette party and the sparks fly. A little while later, Fred and his friend Mulligan end up rescuing the party where they are trapped in their limo.
Rachel is not living her life to the fullest, when she was younger, she was kidnapped and managed to escape herself. Ever since then, her uber-rich father has done everything to keep his only child safe. Rachel even goes by a different last name so that she is less of a target, and there is also the worry that her kidnapper is still out there and was never caught. Her father then includes hiring Fred as a bodyguard to protect Rachel.
I like Rachel and Fred together. Rachel loves animals, and that is what keeps her going since her kidnapping has left its mark on her including claustrophobia. She is troubled yet strong and the
chemistry
between them both grows as they spend more time together. Besides their hot attraction, they also butt heads since Fred really cares about Rachel and sometimes he is over protective, with good reason. The danger to Rachel is real and has not disappeared.
This story has it all: humor, energy, a touch of suspense and lots of charm. Fans of this series will not be disappointed.
Buy Links:
Jennifer Bernard is a graduate of Harvard and a former news promo producer. The child of academics, she confounded her family by preferring romance novels to … well, any other books. She left big city life for true love in Alaska, where she now lives with her husband and stepdaughters. She's no stranger to book success, as she also writes erotic novellas under a naughty secret name not to be mentioned at family gatherings.
Website
Facebook
Twitter
Goodreads
Rafflecopter Giveaway
(Three Winners to receive Print Copies of The Bachelor Firemen of San Gabriel Series Books 1-3, THE FIREMAN WHO LOVED ME, HOT FOR FIREMAN and SEX AND THE SINGLE FIREMAN)