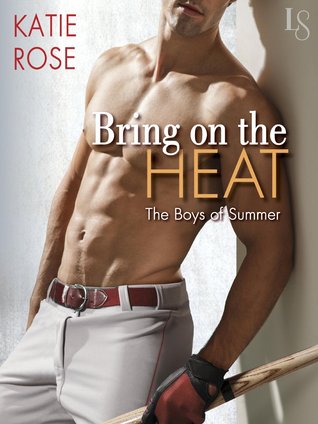 Bring On the Heat
Releasing August 26th, 2014



Don 't forget to enter the Giveaway below!



Blurb:
In Katie Rose's irresistible battle of wits, a case of mistaken identity lands a female fan in bed with a sexy superstar—and in major-league trouble.
House-sitting for a rich and famous friend has its perks, and Darcy Hamel isn't shy about enjoying them. Especially when it means scoring a ticket to an exclusive fashion show hosted by the New Jersey Sonics. An avid baseball fan, Darcy has always dreamed of meeting the team—especially the starting pitcher whose body is as hot as his fastball. But there's a catch. The gala is by invitation only. To get behind the velvet rope, mild-mannered Darcy will have to pose as party girl Lydia Logan.
Schmoozing is one of the downsides of fame, but Chase Westbrook knows how to liven up even the dullest event. And nothing spices a night up more than a beautiful socialite with a naughty reputation. What Chase doesn't expect is a hint of sweetness beneath her sultry facade. Flirtation turns to seduction and leaves him aching for more. Chase just doesn't know who the real Lydia is: the spoiled tease crying foul over some missing diamonds or the alluring woman making a play for his heart.
My Review:

A mistaken identity story, Bring On The Heat makes a good summer read. Chase is one of the best ballplayers on his so-so baseball team. He's young, good looking and charming and when he has the chance to meet Lydia Logan, a wealthy bad-girl socialite at an event, he figures what harm can it do if they "scratch each others backs." Opportunities might open up for him if he dates the paparazzi darling.
Unfortunately, he meets Darcy instead. Lydia encourages Darcy, her house-sitter, to attend the special event in her place since she has decided to leave the country for a while. Darcy hasn't found her place in the world yet which is why she is a house-sitter who does favors while taking care of the spoiled heiress, so Lydia throws her the bone of letting her get a makeover at her favorite salon and borrowing one of her dresses. Darcy is a huge baseball fan and meeting Chase would be a dream come true and she feels like Cinderella at the ball.
Sparks fly between the two, and when someone calls Darcy "Lydia" at the event, Chase thinks it wouldn't hurt to date the bad-girl for a while. And a nervous Darcy gets a bit drunk and lets Chase think she is Lydia. Unfortunately, she lets thinks snowball over the short time that she and Chase are together. Until Lydia returns.
It is a stretch of the believable that Darcy couldn't tell Chase the truth before Lydia comes back. And sometimes Chase's thoughts aren't all that nice, but the actions in the things he does are. If we read each others thoughts, the world would really be whacked out. But they are both imperfect, yet likable characters and I know I was rooting for them to get their misunderstanding sorted out.
Link To Follow Tour
Goodreads
Buy Links:
Amazon
B & N
iTunes
Author Info:
Award-winning historical author Katie Rose makes her contemporary debut with the Boys of Summer novels, Bring on the Heat and Too Hot to Handle, which combine Katie's true loves: baseball and romance! When not watching baseball, Katie is at her lake house in New Jersey, hard at work on her next book.
Author Links:
Website
Facebook
Twitter
Goodreads
Rafflecopter Giveaway ($25 eGiftcard to Book Retailer of Choice, Loveswept Mug and Tote)


I was given an ARC of this story by NetGalley for an honest review as part of this Book Tour.