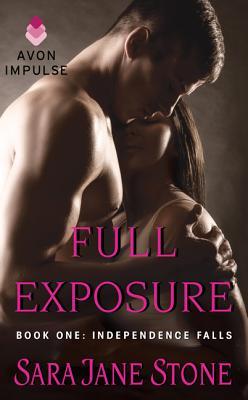 Full Exposure
Independence Falls Book One
Blurb:
After serving her country, Georgia Trulane craves adventure—and sex. She's set her sights on her brother's best friend—now her boss, since she took a temporary job as his nephew's live-in nanny. Only problem? Eric refuses to touch her. That doesn't stop Georgia from seducing him. But an earth-shattering encounter leaves her fully exposed, body and soul.
Eric has a long list of reasons to steer clear of the woman he has wanted for as long as he can remember. For one, he refuses to be her next thrill ride. When he claims her, it will be for good. But the attraction is undeniable, and the more they fight it, the stronger it pulls. But will it be enough to conquer their obstacles?
My Review:
This is the first book I have read by Sara Jane Stone and it won't be my last. This is a strong story, starting with former soldier Georgia coming to work for her brother's best friend Eric as his nephew's nanny. Eric has cared for her almost forever, but wouldn't let anything happen because of his friendship with Liam. Georgia has other ideas and she wants Eric, but he's not budging. After her experiences during the war, Georgia has been an adrenaline junky and is coping with her PTSD one day at a time and I really cared for her character.
Time has other plans for them and they can't deny their attraction to each other. They each have problems to work out separately and together if they are ever going to be together.
I found myself rooting for each of them and this story is full of strong emotion. Eric and Georgia are both loving influences with his young nephew and this makes for some touching moments as well. I am looking forward to reading Liam's story next.
Link To Follow Tour
Author Info:


After several years on the other side of the publishing industry, Sara Jane Stone bid goodbye to her sales career to pursue her dream—writing romance novels. Sara Jane currently resides in Brooklyn, New York with her very supportive real-life hero, two lively young children and a lazy Burmese cat. Visit her online at www.sarajanestone.com or find her on Facebook at Sara Jane Stone.
Rafflecopter Giveaway (Three Digital Copies of FULL EXPOSURE)
Rafflecopter Giveaway (KINDLE FIRE HD or KINDLE PAPERWHITE ($139.00 Value) US RESIDENTS ONLY)
Link to Giveaway #2