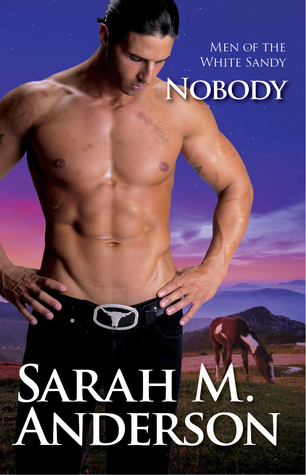 Available Now in e-book and Trade Paperback
My Review:
If you are looking for a different contemporary romance, this just might be it. Nobody Bodine is not your average hero. Abused as a child, an ex con thrown in jail for an accident as a teen, he lives in the shadows of his native american tribe, he lives on the fringes or in the shadows and "nobody" really sees him until Melinda shows up. Sister to the rez doctor, Melinda is hired to help run a childcare center for the tribe. It's Nobody's job to clean the center at night,basically he is shunned. Melinda always seems to know when he is around.
Nobody is a scarred (inside and out) and lonely man, he doesn't really have friends, and he doubts his own worth. He is large, strong, and even good-looking, but he lives in a "borrowed" trailer to be close to the horses he trains. He also watches over a young boy named Jamie who is also abused and ignored by alcoholic parents.
Melinda somehow befriends him and breaks down the walls around his heart. There is a clash between white and native american cultures as Melinda applies to foster Jamie, and there is some rough going as she and Nobody learn to love and trust each other.
This was a very powerful and emotional story. And I too, learned to love Nobody.
I won this book on Goodreads and this is an honest review. Now I hope to be able to read the first two books in this Men of White Sandy series soon.
Blurb:
Nobody Bodine came from a nobody and will always be a nobody. He can disappear into the shadows—no one can see him if he doesn't want them to. He exists on the edge, in neither the white man's world nor the tribe's, dispensing vigilante justice when he sees fit. There's no other place for a man like him in this world.
Until Melinda Mitchell shows up on the rez. From the first moment he lays eyes on her, he can tell there's something different about her. For starters, she's not afraid of him. She asks where his scars came from, and why he has so many. But more than that, she sees him. For the first time in his life, Nobody feels like a somebody in her eyes.
Melinda has come west to run the new day care on the White Sandy Reservation. She's intrigued by this strange man and his tattered skin, and when she discovers that he's a self-appointed guardian angel for the boy in her care, she realizes that there's more to Nobody than meets the eyes. But how far will he go to keep the boy safe? And will she be able to draw him into the light?
BUY LINKS: