My fellow bloggers and I are sharing some of our favorite paranormal reads with you as we wrap up the month of October. Come join us for
Book Club Thursday
.
Please share your favorite paranormal reads with us!
Romancing The Readers-Ann
Born To Read-Cyndi
No, I couldn't do it. I cheated! I couldn't pick just one. There are way too many favorite books out there to only pick one. So I will share a few of my favorite paranormal romances
For Sexy Shifters and Snarky Humor
: Shelly Laurenston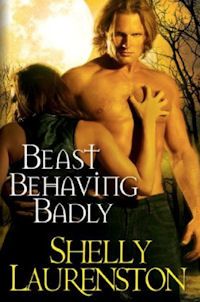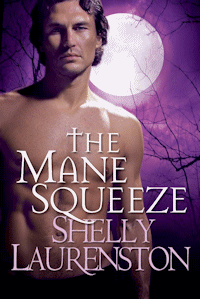 It's a Tie!
The Mane Squeeze and Beast Behaving Badly
I love all in the Pride series, but these sexy bears really stand out. There is no other bear quite like Bo Novikov. Then there is cuddly sweet Lock. I will never think of honey the same way again,lol. These books are hilarious!
Blurb:
Growing up on the tough Philly streets, Gwen O'Neill has learned how to fend for herself. But what is she supposed to do with a nice, suburban Jersey boy in the form of a massive Grizzly shifter? Especially one with a rather unhealthy fetish for honey, moose, and…uh…well, her. Yet despite his menacing ursine growl and four-inch claws, Gwen finds Lachlan "Lock" MacRyrie cute and really sweet. He actually watches out for her, protects her, and unlike the rest of her out-of-control family manages not to morbidly embarrass her. Too bad cats don't believe in forever.
At nearly seven feet tall, Lock is used to people responding to him in two ways: screaming and running away. Gwen—half lioness, half tigress, all kick-ass—does neither. She's sexy beyond belief and smart as hell, but she's a born protector. Watching out for the family and friends closest to her but missing the fact that she's being stalked by a murderous enemy who doesn't like hybrids…and absolutely hates Gwen. Lock probably shouldn't get involved, but he will. Why? Because this is Gwen—and no matter what the hissing, roaring, drape destroying feline says about not being ready to settle down, Lock knows he can't simply walk away. Not when she's come to mean absolutely everything to him.
Already AvailableKensington Books
Barnes&Noble
Amazon
A Darker Shifter Story:
Christine Feehan
Burning Wild: I couldn't put this one down. A leopard shifter, Jake Bannaconni is one hell of a hero!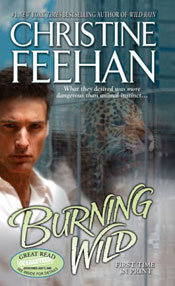 Blurb:
Born into a world of twisted monsters, Jake Bannaconni is shaped and molded into a cold, revenge driven man. Honed in the fires of hell, he controls his world and rules with an iron hand. He has everything and anything money can buy. He's ruthless, merciless and considered a man to leave alone. His hidden legacy, that of a shapeshifter, makes him doubly dangerous in the corporate world.
Emma Reynolds is a woman who knows how to love and love well. When their two worlds collide, Jake's plans for a complete take over, may just come tumbling down.
Jove Books
Already Available
BAM
Amazon
Barnes & Noble
Jove Books
Here are some great paranormal series!
The paranormal genre has exploded this past decade. There are vamps, shifters, demons, djinn, ghosts, etc. You name it, someone has probably thought of it. What were once categorized as horror stories, the modern author has evolved and come up with wonderful creations. In this new romantic paranormal world a hero may just happen to be a bear shifter who plays hockey. The heroine? She just might be a kick-ass demon hunter. The new heroine doesn't wait to be saved, she fights along with the hero! They now appear in all genres, from historical to romantic suspense and even erotic. Even Nora Roberts has given vamps a go. I sat down one afternoon and tried to count how many paranormal authors I read. The number is near 200 now and still growing. We can find Linda Fallon's historical ghost-buster like trilogy to Alexis Morgan's Paladin's of Darkness series. And who hasn't heard of superstars Christine Feehan, Sherrilyn Kenyon, and J R Ward? So trying to find one favorite was just impossible for me.
I would like to give a shout out to several authors who wrote paranormals in the 1990's when publisher's insisted no one wanted to read a vampire love story. It's because of them that I started seeking the otherworldly in romance. Lori Herter had a quartet of stories featuring a vampire named David de Morrissey who was not embracing his dark side in the first book
Obsession
. Linda Lael Miller followed a few years later with another quartet, starting with
Forever and the Night
. There were vamps, male witches, angels, and one mysterious vampire named Valerian with lavender eyes. Finally, Silhouette publishers (part of Harlequin) produced
Silhouette Shadows
, shorter paranormal stories with authors like Anne Stuart, Heather Graham, Kimberly Raye, Jane Toombs, and Maggie Shayne whose Twilight Phantasy books continue on to this day.
I hope you enjoyed your visit and I hope you will share some of your favorites with me. I can't wait to see what my blogger friends have written. Please check out their blogs and share your favorites there too.